Let us show you the power of our advanced parametric Revit family for a manufacturing project. We've invested a significant amount of time in perfecting this method, and as a result, we've achieved outstanding automation.
Our Revit family boasts amazing parametric formulas that can construct a dome like this in a matter of minutes. With our Revit family, you can easily get the bill of materials, including stock, custom, and hardware BoMs, making it an ideal process for speeding up the delivery process, reducing costs, and shortening the lead times for manufacturing products.

Why Revit and not Solidworks?
You may be wondering why you should choose Revit over Solidworks for manufacturing. Both have significant advantages and disadvantages. The power of Revit in manufacturing is extraordinary if you are collaborating with other disciplines (e.g. architects, engineers, contractors). If you need construction documentation and assembly drawings, it has a huge advantage over Solidworks.

However, if you are planning to get highly accurate profiles and focus on individual products (e.g. bicycle, single beam, or structure) Solidworks have excellent features and accuracy.
If you are interested in pre-fabrication, and you have a certain level of customization with accuracy as low as 1/32″ (0.8mm), then Revit is the right choice.
We are taking this to the next level by combining a workflow between Revit and Inventor. We are focusing on exploiting the features of both software to accomplish the maximum potential outcomes. If you want to learn more about this workflow, you can book a free consultation meeting with us.

What is the advantage of our parametric Revit Family?
Design Reviews
With our Revit family, sharing design reviews with consultants, stakeholders, and clients is a breeze. You can easily manage data and get valuable feedback.
Speed of delivery
Our Revit families are both light and functional. The model size is reduced, and the speed is increased. Furthermore, all tagging and scheduling are automated, leading to faster lead times with minimal effort required.
Collaboration
File sharing with other consultants without sharing any confidential information (e.g. profile details)
Construction Documentation and Assembly Drawings
Your project goals are met with comprehensive assembly and construction drawings, expertly crafted to meet your needs. With flexible options for creating a range of drawings, you can increase your efficiency and improve your workflow. Additionally, you have access to your models from any device, at any time, and benefit from detailed information delivered promptly for a seamless experience.
Visualizations
Your design approval process is accelerated with outstanding visualizations and walkthroughs. You get the green light from your clients faster than ever before. As a result, you experience an immediate boost in sales for your business.
Clash Detection
You can check for clashes with other projects. If your dome is sitting on top of a swimming pool, chances are you won't have many clashes. However, if it's intersecting with another building, our Revit family allows for easy clash detection.
Automation
We use Dynamo to build all drawing packages, Stock BoMs, and Hardware BoMs with just one click. This makes the process fast, strong, and powerful.
Great for 4D Timelines and 5D Cost Simulation
You can use our process for 4D timelines and 5D cost simulations, thanks to Revit's collaboration benefits for you and your consultants.
Let's dive into this project's efficient workflows.

How the Parameters Work
By clicking a component, you can easily add another frame to the dome.
This frame has a lot of components, such as screws, glass spacers, glass, end caps, beams, brackets, and plates.  Once you add the frame, all components will be added to the schedules and Hardware BoM immediately.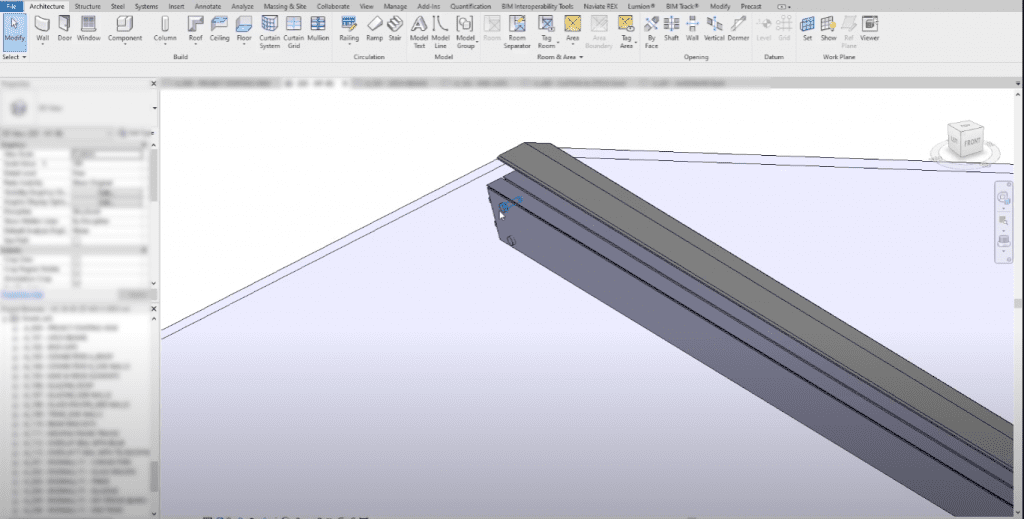 As Stock, Custom, and Hardware BoM
The parameters of the frame are also optimized, so you can change them with ease. For example, if you want the frame to be 400″(xxx mm) and the height to be 22, simply enter the values and click apply, and the changes will be reflected in real-time.
The reason for this speed is that we focus on speed when creating any product. Our parametric Revit families are the best way to deliver your products faster.
This frame also has a lot of parameters. We can effortlessly change the parameter and everything will automatically optimize.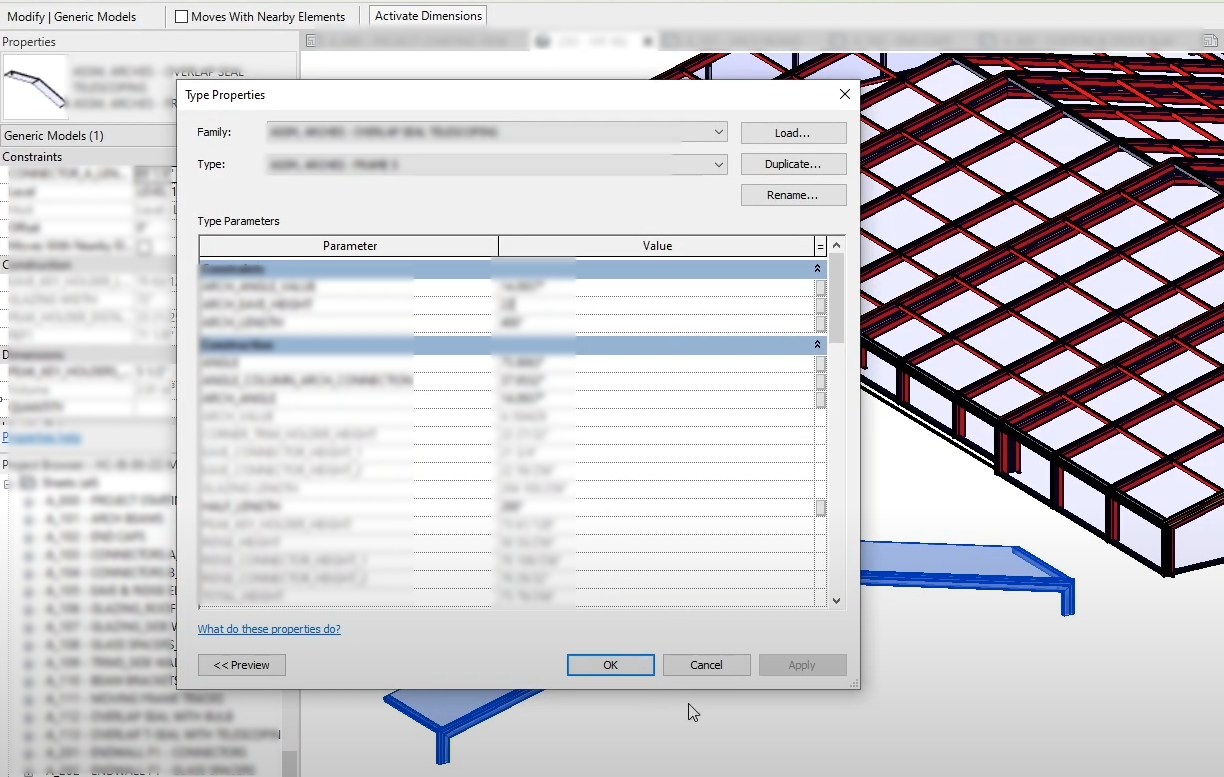 The process of using the parametric Revit family is amazing. Especially, if you want to build, assemble and deliver faster to your client. 


The Benefits of Integrated BIM's Revit Family

At integrated BIM, we are taking this to the next level by using Revit (BIM) and Inventor (CAM) workflow. We use Inventor to benefit from profile details less than 1/32″ (0.8mm), BIN Packing, and Automation in manufacturing.
Architectural Design: We understand how your systems work and use innovative BIM and CAM libraries to significantly reduce lead times.
Cost Estimation: By using the 3D model created from Architectural Design, we can extract major quantities such as Volume, Weight, and Basic BoM for initial cost estimations.
Structural Package: We provide a complete Structural Package and 3D analytical model for SE or PE analysis and permit applications, saving time and cost.
Fabrication Package: Our team delivers a complete Fabrication Package with Stock, Custom, and Hardware BoMs.
Assembly Package: We provide a complete Assembly Package to allow on-site teams to access all necessary information.
Visualization, Presentation, and Lead times:

Our services improve visualization, presentation, and lead times, allowing us to close more projects.

Project Management: We offer project management services to ensure the project is delivered on time and within budget.
Automated Fabrication: We can fully automate the fabrication process by feeding cut lists (linear and 2D) to reduce labor costs and revolutionize fabrication speed.
If you want to experience the benefits of using a parametric Revit family for your manufacturing projects, then book a free consultation with us today. Let's work together to achieve faster delivery, improved design previews, and optimized stock BoMs. Contact us now to get started.