In a world driven by innovation efficiency, the remarkable journey of Cihan Ozdemir stands as an inspiring example of the outstanding results that can be achieved. As the CEO & Project Manager of DynaDome Retractable Enclosures, based in Indiana, USA, Cihan embodies the essence of competence and continuous learning. In this insightful interview, we have the privilege of exploring Cihan's captivating success story, where the synergy between these two pivotal elements has not only transformed his business operations but has also revolutionized the way DynaDome operates. Join us as we dive deep into the Client's Success Story, discovering why competence and continuous improvement are the secrets behind DynaDome's endless possibilities.
1. Can you introduce yourself to our audience?

My name is Cihan. Last name – Özdemir. We're a family-based company in Indiana, USA. We design, manufacture, deliver, and install retractable aluminum structures that go over indoor-outdoor spaces, swimming pools, and rooftops on restaurants. One day we'll do some stadiums. We have a vision. We're a small company, but we appear as though we're larger than we are with the types of deliverables that we're able to produce in the time we're able to do it and the efficiency in the manner we do it. I have a background in engineering. We've been doing this since 1985 and brought on Integrated BIM almost six years ago and have been wildly successful since COVID. Honestly, after COVID, had a little bump in the road for most people. But it's been very successful ever since.
2. How long have you been working with Integrated BIM?


This past spring is going on six years. And a lot of the working relationship has been pretty collaborative. And the six years when it started, I'm pretty sure I knew that it was going to be a long-term relationship there.
3. What were the main problems in your organization before Integrated BIM that struggled you the most?
A lot of what we were trying to do was obviously improve our efficiencies within our manufacturing, and so we were doing a lot of things in-house. And if you're not the master of your trade, you're trying your best to get it done and out to the floor. But, manual and human errors are inevitable. We tried to find a way to minimize that as much as possible while getting someone who is an expert in that field to help us basically become scalable.
So as we continue to grow, we couldn't continue it the same way we were doing things, and Integrated BIM has absolutely put us in another, I don't know, say atmosphere, but certainly a different space to where we can comfortably scale with confidence out on the floor.
4. Have you tried any other solutions before?
Probably a few years prior, we tried using SolidWorks as a way of designing and developing our products, but because of the way SolidWorks works, we have several parts within our system that just didn't fit our needs, and it was very cumbersome on the software and the organization of it just didn't. It just didn't fit.
So once we got into Integrated BIM and "interviewed" Hasan and understood the advantages of adapting BIM to manufacturing, the idea sounded great, as they always do in a marketing kind of a pitch, but certainly came through. And I mean, it's really done probably more than I expected.
5. What were the results of the collaboration with Integrated BIM?
Honestly, time is the biggest thing, right? I can give a project directly to Integrated BIM and not have to worry about the results coming back to me, having any errors, or missing anything because there's certainly a setup that goes along with it. But that collaboration, the interest in knowing every step and phase of the manufacturing process has essentially just created results that within a week we get a full bill of materials (BOMs), sheets that allow my production supervisors to hand off tasks to several different people out on the floor. And they know exactly what they need to do. Quantities, cut lengths, and angles without any guesswork.
And if you would have asked me to do something like that within our offices, we would have never gotten here. At least that's my strong belief that Integrated BIM has certainly put us in a space where competence is key. You know, you give a sheet set to the production floor, and if they're taking that in with confidence, the questions that come back to the office all of a sudden disappear, and your time in the office is now free to do other things right. The other tasks that you've always wanted to do on your whiteboard.
6. What specific tasks Integrated BIM has been handling for you?
Prior to that, any of our projects, go through three phases. So an initial concept phase as our customers begin speaking or working with us, Integrated BIM using Revit or the other tools within BIM produces a set of architectural plans and renderings that essentially become a sales tool to the customer. And when that customer decides to move forward, the work that was done in the renderings has already put us a couple of steps forward in producing the structural drawings that we use for engineering. The engineering plans, then go to our structural engineers for evaluation that allows them to get permits. And then again, we go and utilize that same filing system or that same work that was done in those first two phases to finally develop all those fab drawings, all the shop drawings. And that again, saves so much time.
Whereas our process before was SketchUp or, just different tools. If the customer moves forward, that work that was done stops there. You have to restart with the other tools, whether it is AutoCAD, 2D, or whatever. One builds on the other and builds on the other, and that also eliminates errors. Because you're using the same tools or the same developed designs that the customer had approved initially. It's great.
7. What made you choose Integrated BIM's services over anything else?
When I look to do, you know, this type of interviewing where you're looking for services, I look for the person first. Someone I can work with, someone that's easy, that will listen and vice versa and understand. Listening is a key component to helping each other because at some point you realize everyone has the skill set essentially, but also to be able to listen, build upon it, want to learn more, and be dedicated. Not everyone should be available 24/7, and I certainly wouldn't ask that. But Integrated BIM ended up being that way and I don't believe it's anything other than the partnership that we've managed to create over the years.
And so there is a synergy within that partnership that essentially we don't I don't look at us as individual separate companies or different services. It's almost like we're one.
So anytime we need an emergency, which doesn't happen often, but if you call on it, it's awesome to see Integrated BIM come and say: "Okay, what do you guys need? We're going to bring all hands on deck". It's great, and it's I feel like that's part of that selection process that I use to bring in the right people, and then everything else kind of built off of that.
8. How does it compare to having a BIM Team instead of a single BIM Manager or Project Manager?
The same way any other team would compare to a singular person. Right? You can't be the master of all trades. So you're going to have within the BIM team, team members strong in different aspects within the overall design. And within the team, because I've gotten to know the Integrated BIM team, everyone is learning from each other. And so when you surround yourself with like-minded individuals, all of a sudden the individuals within the team become stronger as a team. We have three people who work hand-in-hand on any project. If you didn't tell me who produced the set of plans, it could be a different person each time, but I'm getting the same result because they are all on the same wavelength and recognize what we're looking for. As a team, they learned what DynaDome wants and needs, and as a team, they deliver that. As a team, you are three times stronger and better than one person. So you're able to tackle multiple tasks and get the same results no matter who it is.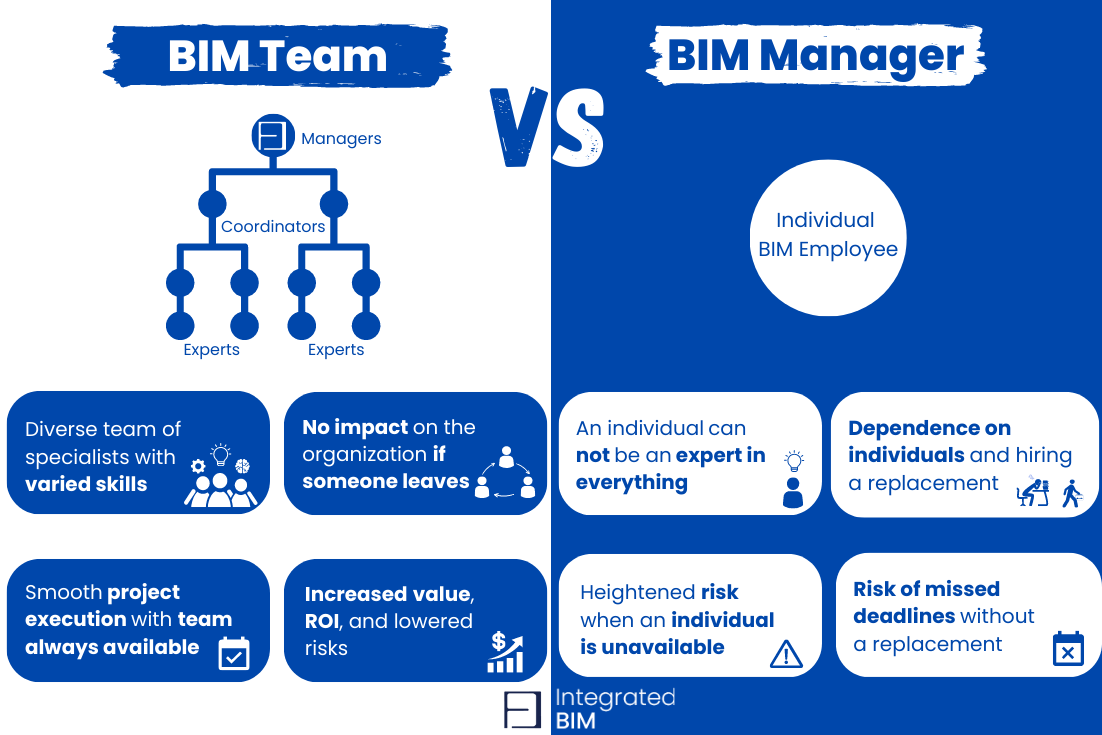 9. What were the most significant changes for your organization?
The most significant is efficiency and the competence and the deliverable to the shop floor. So that also speaks to efficiency because then the shop floor has less questions. Again, I don't think I can stress enough that competence in the deliverable to the shop allows them to automatically pick your parts off the shelf and know that whatever you're cutting and the quantities given are the right quantities. They're not 1 to 1 project. That efficiency buys you so much time. It was a struggle, but we were pushing the deadlines all the time. Now we can produce 25 to 30 projects and still not be feeling like we're at max capacity. I think that's a huge turnaround in our ability to like, increase our sales and ability to produce more because there's no bottleneck anymore at that stage of design and development and fabrication.
10. When did you start seeing positive outcomes from these changes?
We've been doing it for so long now, it's hard to pinpoint when it started. I think initially the first year or so passed with a lot of learning. As with anything new, take a couple of steps forward, maybe one step back to learn. Some processes or families or just the development on your back end may not have been working for your team as a deliverable to us, but we quickly learned again, that's where it comes with the whole listening and communicating and feedback. So after that first year and into that second year. I think we started to get more efficient and then it was that kind of slow start where you have anything new, and then all of a sudden that graph jumps. And now it's like, okay, we've gotten better. That's the whole thing with Integrated BIM, we're never satisfied. You as a team are never satisfied, which makes us the same. So constantly improving. "Okay, we've done this good this week. We've done it within a couple of days. How can we do it in a couple less days or a couple less hours?" And that's great. It's more like we're on that same team rather than a contractor, individual company, or vendor. It's kind of a long-winded answer to that, but it all kind of ties in.
11. What practical advice would you give to other professionals who are looking for BIM consulting services?
Make sure you find someone you can work well with. So it's not just BIM related, but to speak about BIM is the planning on it. Right?
Certainly some patience, depending on how complicated your manufacturing might be in Revit. There is no one solution out of the box. So it takes some time to learn your processes, and your workflows, and then to translate that into a system that produces competent results over and over again. It takes just a little bit of time and investment. You're going to spend a little upfront, but you're going to with the right vision, you're going to make it on the backend and the ability then to say: "Now I can take on more sales and more work and more projects" gives you a certain level of confidence.
We definitely made the right decision on our side as far as, engaging in this relationship and this decision to go outside of the company and introduce someone who's truly a master at this, but also a master at wanting to learn your stuff, your workflows and processes, and even develop new ones. It's true, partner. So start with the person. Recognize there are some patients in development. Don't jump into projects first.
Cihan's story is a testament to the power of partnership and innovation. His journey with Integrated BIM showcases the remarkable transformations that can be achieved when professionals unite their expertise. If you're seeking a game-changing solution to enhance efficiency, reduce errors, and supercharge your processes, it's time to consider our BIM consulting services.
Every day without taking action represents a missed opportunity—book a free consultation today and embark on your path to success!